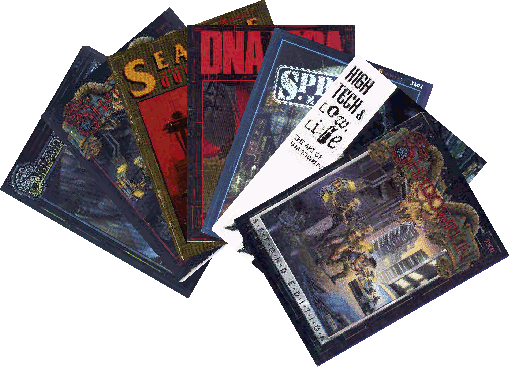 Shadowrun Product Reviews
Shadowrun is a roleplaying game published by FASA Corporation, which first came out in 1989. Since then, around 80 books have been published, many of which are still in print. These pages are intended as a catalog of what is, or was, available, with short reviews giving an idea of the usefulness of each book to players and gamemasters.
Please Take Note:
This site has been out of date for a very long time — its last update seems to have been on 18 May 2001, but most of it dates from March 1999. A lot has happened with Shadowrun in the decade or so since then, and for this reason I decided to make a fresh start.
If you are interested in reviews of Shadowrun products, please go to the Shadowrun Products Datahaven at http://shadowrun.understairs.nl, which is the reincarnation of the site you are reading right now. It features such things as a separate page for each product, more in-depth information about everything, and the possibility for you as a visitor to leave your own thoughts about the items reviewed.
I hope to see you there!
By request, though, as well as for nostalgic reasons, I'm leaving this old version of the site up so that anyone who wants to, can still read it.
—Gurth, 19 April 2011
Naturally, you could also refer to FASA's catalog, either the printed version or the on-line one, but obviously that does not give an unbiased opinion of the books — after all, they sell them — which is something this web site does attempt to do. All the reviews here are written from a gamer's perspective, not a marketing one.
In addition to reviews and data for Shadowrun books published by FASA, these pages also have sections for magazines, net.sourcebooks, and miscellaneous Shadowrun material, in an attempt to cover as much of the available material for the game as possible. Also featured are timelines showing when each book becomes "available" in the fictional game world, and tables showing what each book is about in a quick-reference format.
Feedback
This page is maintained by Gurth <gurth@xs4all.nl>. Feedback, criticism, suggestions, and other comments are welcomed at the address given, spam is not.
A Request
If you have Shadowrun material that is not included on this web page, it would be appreciated if you could send a short review of it to the address given above, in the same style as the others on this site.
Rights
Shadowrun® and Matrix® are registered trademarks of FASA Corporation. Most other book names mentioned on these pages are trademarks of FASA Corporation. Used without permission and/or bad intentions. Cover scans by Gurth from the original books (or screen captures for net.sourcebooks), included for review purposes only.
Jumpgate