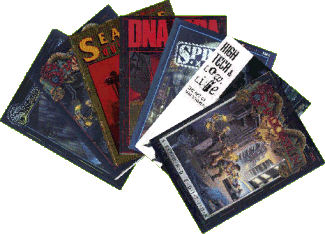 Shadowrun Sorcebook Dates
Following is a table containing the dates for FASA-published sourcebooks for Shadowrun, and is useful for gamemasters who want to introduce them into their campaign when it reaches the point the book is available in the game world.
Two dates are given for each book, namely the earliest and latest dates given in the sourcebook. The reason for this is that most sourcebooks appear over time in the game world, and the book is obviously available by the time of the first date, while it is "complete" by the last date.
For the older sourcebooks, the dates are taken from the comments in the text; as later books have done away with the time/date stamps on these comments, the dates for them were taken mainly from Captain Chaos' introductions to the books' chapters, which do tend to feature the date at which the chapter was posted on Shadowland.
Should two dates appear, one in parentheses and the other not, then the first date is the earliest in the book, but the second is a better indication of the starting date; examples are Awakenings, where one date on page 18 is from 2056 while the rest are all from 2057, and The Neo-Anarchists' Guide To Real Life, where many articles are "reprints" from 2051 or 2052, but nearly all the comments are dated 2053.
Perhaps it's unnecessary, but I'll mention for Americans and others using funny date notations that the dates in this file are in a day-month-year format.
Thanks go to ArcLight, D.Ghost, Eclipse, and Martin Steffens for supplying the dates for the sourcebooks missing from my collection at the time I first compiled this list.
The dates for the adventures are in a separate file. The names of the books are linked to short reviews; to read the review, click on the name of the book.
FASA Sourcebook Dates
Notes
* There is an earlier (or later, as applicable) date in this book, but it appears to be a typo.
1 These dates are not from comments but from a TV guide (earliest date) and a magazine issue (last date) in the book.
2 Due to the way Threats is put together, I've decided to date each chapter separately.