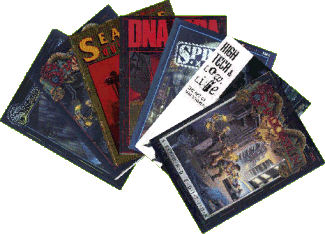 Shadowrun Adventure Dates
In the table below are the dates for FASA-published adventures for Shadowrun, and is useful for gamemasters who want to play them in the correct order in their campaign. In nearly all cases, the dates were taken from the Seattle Newsnet Intelligencer that appears in the back of many adventures. As such, it represents the date by which the adventure is OVER; exceptions are noted in the table.
I've avoided putting in spoilers for what actually happens in the adventures, so all players can learn from this table is which adventures they might expect around which points in the Shadowrun timeline.
Perhaps it's unnecessary, but I'll mention for Americans and others using funny date notations that the dates in this file are in a day-month-year format.
The dates for the sourcebooks are in a separate file. The names of the books are linked to short reviews; to read the review, click on the name of the book.
You will notice that the dates in the adventures don't always follow the same order as FASA's stock numbers; for example, DNA/DOA was the first Shadowrun adventure published, but chronologically it's second or third, if not later depending on when you think Harlequin and Silver Angel should take place exactly.
Thanks to Mark Steedman for supplying the dates for the adventures I didn't own when I originally compiled this list.